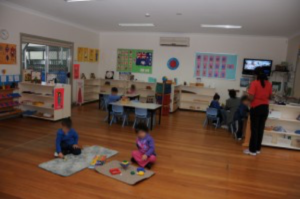 Montessori Kindergarten aims to provide the best educational environment in partnership with families and the community to develop children's skills in the philosophy and technique of the Montessori Method. The two main aspects that make a Montessori run centre are that the teachers are especially trained and the centre is supplied with equipment as designed by Dr. Maria Montessori.
The centres are air-conditioned, however fresh air is provided, except for extreme hot or cold weather conditions. Hot water is provided for the children's hand-washing and is temperature controlled to prevent scalding. Paper towels are provided rather than cloth to minimise the possibility of transfer of infections. Every electrical outlet is protected by a safety-breaker. The large outdoor space is secured with child-proof gates; softfall surfaces which protect climbing areas; gardens are safe and cleanliness of all facilities and equipment is given highest priority.
The centres at Rose Hill and Guildford consist of four separate rooms Koala 0-2 years, Joey 2-3 years, Kangaroo 3-4 years and Emu 4-6 years. There is also a kitchen where meals are prepared on a daily basis by our chef and a dining area for the 3-6 year olds to have lunch in.
The centres are away from main roads so pollution from road traffic is minimal. The centres has their own parking where drop-off in the morning and pick-up in the afternoon is easy and safe.